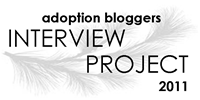 I am very excited to be participating in this year's Adoption Bloggers Interview Project, along with
119 other bloggers whose lives have been touched by adoption. The concept behind the project is simple: the participants were paired off at random and then
spent some time getting to know each other's blogs before interviewing each other by email.
Today is the day that we are all publishing the results, and I am honored to introduce you to Brittani of Loved_BE. Brittani is an adoptee,
a
foster care alumna, a birth mom, a scrap booker, and much, much more. She has a beautiful son named Isaac.
She also has great insights to share, and
I hope you will not only enjoy getting to know her through this interview but will stop by her blog as well. And I hope you'll check out the other pairings, too. I know I can't wait to do so! Many thanks to Heather of Production, Not Reproduction for organizing all of this. And now, here is Brittani in her own words:
1) Can you tell me a little bit about your history as an foster alumni and adoptee?
The first time that is documented of us being taken away from my mom was when I was 4. However, there were several times before that as the problems began when I was born addicted to methamphetamine. We were moved every 2 to 3 months from the time I was 4 to the day my mom signed the TPR when I was 7. I moved 16+ times in those three years. I was adopted and moved out of state shortly thereafter and I lived with them for three years. My amom was diagnosed with lupus and the circumstances led to me being placed back into foster care when I was 10. Between the ages of 10 and 18 I moved another 7 times before finally aging out of care. I lived with Bruce and Karman for my junior and senior year of high school and I consider them to be my "forever family". I continue to have a relationship with them and go "home" for holidays and family gatherings.
2) Did you later reunite with your birth family or part of it?
I found my birthmom when I was 12 but I did not have a relationship with her until I was 15. When I reconnected with her the second time, I also found my older brother and sister. I found one of my younger sisters when I was 18 and the youngest is yet to be located. I found my birthfather when I was 18 and learned that I have two biological brothers and two step-brothers all who I still have not met in person (I also have not seen my dad, although I am in touch with all of them).
3) On your blog you write that you could never have done a closed adoption as a birth mother. Was this something that you felt certain about right from the start or did you come to this realization gradually?
I decided to place my son for adoption when I was just over 3 months along. From the time that I made that decision I was sure I wanted a closed adoption. Then around month 7 I started to realize there was no way I could survive placement if I did not know how he was doing. By the time he was born I was confident I had to have an open adoption agreement.

4) Was your decision to place and/or your determination to have an open adoption in any way influenced by your own history as a foster alumni and adoptee?
Growing up in a cycle of poverty, instability, and largely without either parent, I have always known I wanted more for my family. Growing up I made it my mission in life to be everything my mother couldn't. I recognize that is not the healthiest way to deal with grief, unfortunately my attitude toward my pregnancy was no different. I wasn't about to bring a child into my life if I couldn't offer him health insurance, a college fund, a father, and a white picket fence. My opinions on all of those things are drastically different now that I'm on the other side of it but unfortunately there is no going back.
I know firsthand what it is like to "need" to know where you came from and who gave you life. I always wanted my son to have the security of knowing his roots, even when I didn't think I wanted contact with him - there was never a time when I didn't want him to know who I was.
5) Can you tell me, and my readers, a little bit about what your open adoption looks like. How often do you visit with your son and how do you keep in touch in between visits?
This one is tough because he is just over a year old. Before he was born we met with a lawyer and set up a contact agreement that stipulates we should have one visit per year for the first two years. Initially we had updates every month and that went to every other month after his first birthday. I believe after his 3rd birthday it goes to once every 6 months and once he is in school it is just once a year. I'm a little fuzzy about what we agreed on for those last few though as they are still so far away. The important part though is that we are in contact far more than that. We have only had one in person visit since his birth because they live out of state and visits are challenging. But, his mom sends me photos a few times a month sometimes, we are friends on Facebook, and have Skype'd with them several times. She frequently sends me videos and picture messages throughout the month and we have a relatively close relationship. I do not necessarily have a direct relationship with him yet but come on, he's only one :).

6) What thing do you most appreciate about having an open adoption?
The photos and videos. I love that I not only get to hear how he is doing but I get to see it too.
I also love the relationship that has formed between his mom and myself. I treasure her and greatly respect her.

7) What has been the hardest part for you about having an open adoption?
The distance. The fact that we live in two different states is very hard for me, although in choosing them it was a determining factor. Initially I did not want a local family. My perspective has changed on so many things post-placement.
8) How has becoming a birth mom affected your relationships with other people in your life?
My relationship with my parents (Bruce and Karman) is significantly better and significantly worse because I placed my son for adoption. During my pregnancy my dad and I became very close for the first time ever in our relationship. We have remained close since I placed Isaac. However, I have struggled with accepting the fact that they refused to support me had I decided to keep Isaac. For them, me keeping him was never an acceptable choice. They told me they would not help me if I decided to keep him and I'm not sure I will ever be able to forgive them for that.
It has also negatively impacted my relationship with several members of my birth family.
The only place it has really had a positive impact on relationships is online. It has allowed me to form relationships with other birthmoms as well as adoptive moms through blogging.

9) If you were having a conversation with an stranger or an acquaintance and happen to reveal that you are a birth mother, what is the one thing they could say to you that would be most supportive?
"I'm sorry for your loss." And leave it at that. Following it up with, "But you are so unselfish and he is so loved..." or something to that affect, just adds insult to injury. Acknowledging that it is the most painful thing I've ever done means far more than anything else that could be said.

10) On your personal blog, you mentioned impact of your job as a nanny on your healing process post placement. Can you tell me a little more about that?
I basically just talked about how it was challenging to care for an infant who is just one month younger than Isaac and how watching her go through various developmental stages was painful because it was a constant reminder of all that I was missing with Isaac. I wrote that post in May and I think now, 6 months later, I can also acknowledge that having this job has helped with the healing process. I am far more aware of my parenting inadequacies, as I spend 10 hours a day caring for an infant, than I probably would be if I didn't have a nanny job. I am also more aware that I could have done it. As I've said many times on my blog :)

11) Are there other things that have contributed to healing since your son's birth?
Scrapbooking is like really fun therapy for me. It is probably close to the same price (*wink wink) but you have the benefit of working through the emotions when you are alone in the comfort of your own home. And you end up with a wonderful keepsake of your child's life at the end of the book.

12) You recently spent time in Africa and you have written about some of the different cultural attitudes towards adoption and unplanned pregnancy. What do you see as some of the advantages and disadvantages of the different cultural approaches?
As a birthmom I am very fond of the East African cultural attitude towards parenting. They strongly encourage mothers to care for their own children and when a child is abandoned/orphaned the child will either go to live with biological relatives or close family friends. One of the advantages to their approach is that family bonds are highly valued as is maintaining cultural ties. One of the disadvantages to this approach is that there is no infrastructure in place to care for the overwhelming number of abandoned/orphaned children. There are more children in need than there are willing caregivers. Often times leaving children starving and alone living on the streets.